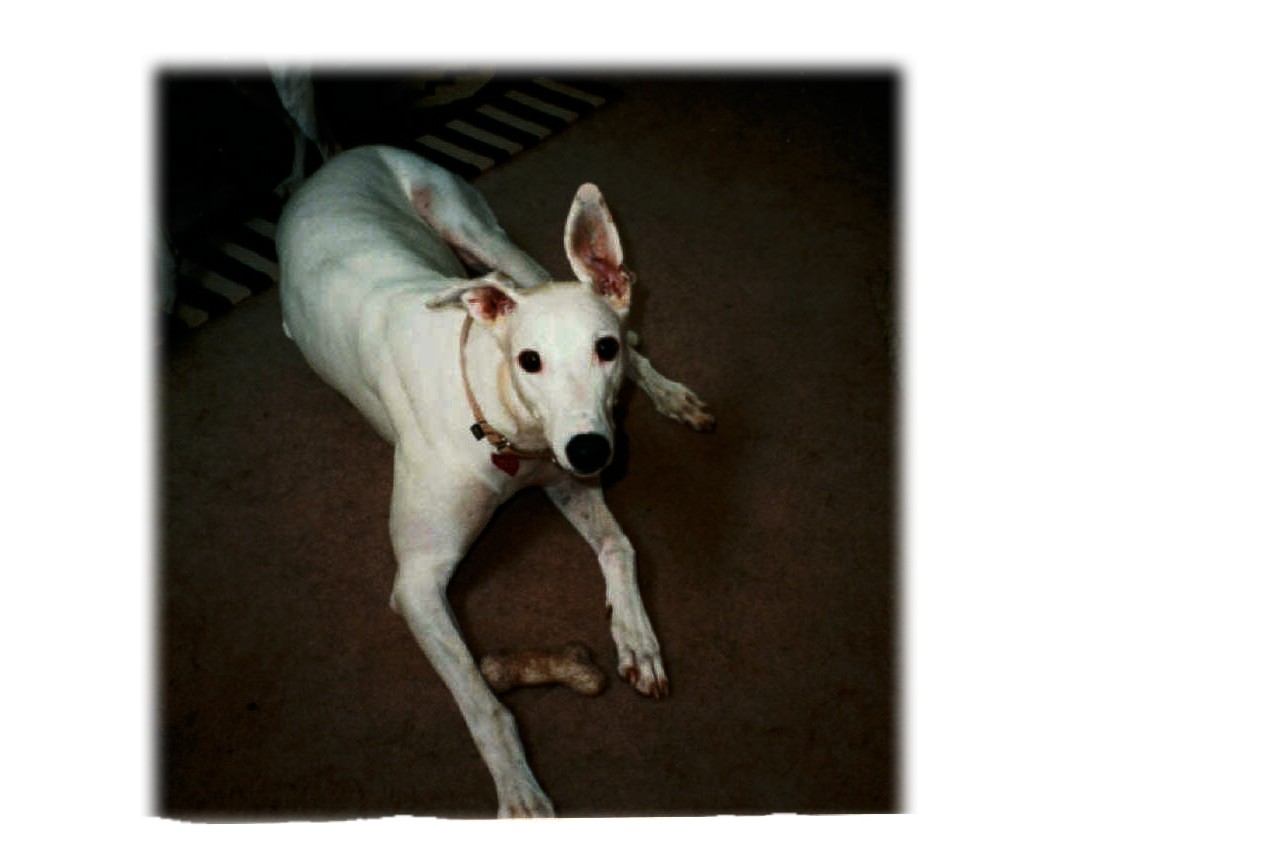 My experience with greyhounds officially began on April 7, 1999, but the real story actually started 25 years earlier. I fell in love with greyhounds when I was a kid, but wound up with a whippet. As much as I love those mini-greys, I never gave up on the idea of adopting the full sized version.
With whippets becoming the family dogs, and with my starting an all breed rescue group, each year the dream of adopting a retired racer seemed farther out of reach. In January of 1999, the death of my eldest statesman, the handsome, sweet, silly Gulliver Whippet, opened a chasm in my life it would take a greyhound to fill. And a big one at that. I started contacting rescue groups.
After a lot of research on my part, and a lot of scrutiny on theirs, I was finally approved. I had my crate, my books, and subscribed to the gh-L. I was ready. The shipment of dogs arrived two days earlier than expected, but as soon as I got the call, I was in the car and on my way. After all this time, now a three hour drive was all that stood between me and my dog!
The sight of a greyhound has always made my heart beat a little faster, but that day, when I arrived at the kennel and saw those dogs, it raced. Which one was my greyhound? I'd requested a big male, any color, good with cats and other dogs. Making my way through a pack of fawns and brindles, I was greeted by the biggest white dog I had ever seen. My boy. Huge. 90+ pounds racing weight, and the biggest muscles I'd ever seen.
Stuffing him into my back seat, I briefly considered that I didn't know anything about this large dog, and that he could easily bite off my head at any point on the long ride home. But he settled in with little trouble. The only problem we had was that, when he stood up, all I could see in my rear view was white. White butt, white front, white sides. White everywhere.
When we got home, I muzzled this great white beast, and we walked through the front door. Eight pairs of cat eyes greeted us, and my cat-safe greyhound made a lunge. Great, I thought, I'm going to spend the rest of my life keeping this dog away from those cats. Cat-safe my ***.
And that wasn't the only problem. This dog had no, zero, zilch personality. He growled at me if I got too close when he was on my bed. And he wouldn't even run. I had this huge area fenced specially for him, and he just walked around, sniffing. Gee. I'd waited 25 years for this? But he was my dog, and til death do us part.
I couldn't find out much about Wylie's background because his former owner never responded to my letters. I was able to trace that he'd raced in New Hampshire, at Seabrook. He was fast, but clumsy, so that's why he was retired before he turned three. His racing name was "The Great White Hype," and they'd called him "Whitey" or "Porkchop" at the kennel. I got a feeling that this was a very loving dog who had not thrived in the racing kennel. His personality, whatever it was, was never encouraged, and now he was far away from everything he'd ever known. I was determined to give him the best life I could, and not to expect much from him. He deserved it.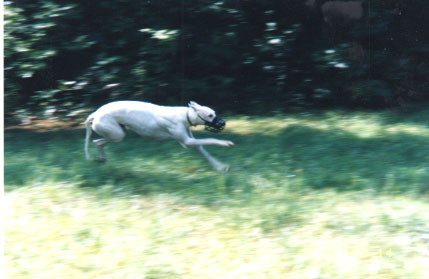 Whatever I did, it worked. Gradually, this dog blossomed. After a month, he was over the cats. After two, he no longer had "sleep space aggression." After three, he started showing a little personality. Now, he fetches, does tricks, has happy tail, roos, cockroaches, and does all the other nifty greyhound things I'd heard about - plus a few I hadn't. Of course, he loves to run now, too. (The first time he turned on the speed the ground shook and all we saw was a white streak!)
After all those years of dreaming about my greyhound, the experience sure didn't start out the way I'd expected, but I'm glad I hung in there with Wy. He was more than worth it. He turned out to be one of the great ones. He's even a lot like my sweet old Gulliver, right down to the red freckles on the backs of his ears.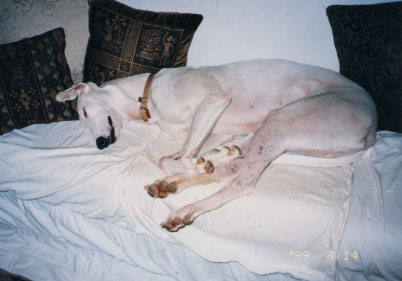 So if you're thinking about getting a grey, know that there are going to be some adjustments. Probably not as many as Wylie and I had to deal with, but there will be some. You will get through them, and the rewards will be more than you'd ever have hoped for. These dogs are magical!

Wylie was struck with hemangiosarcoma on June 9, 2001. After a brave effort, my boy lost his fight on June 27, 2001. His goodness and strength touched the hearts of everyone who met him during his illness. Wylie was my best friend, a dog who never asked for much, but brought so much happiness into my life. I will never forget his tricks: his bow, his speak, his bounce. I can still see him running in the back yard, chasing his favorite purple ball, dunking it in the baby pool to wash off the dirt. He loved playing fetch -- with me or all by himself. He was so good with all the other dogs and cats, and a huge presence here at snips.

I am so grateful for our time together, Wy. I hope you feel the love I send to you each and every day.

I hope to someday understand why you needed to go.

I hope someday that the pain of losing you will fade.

You will always be my best boy.


I love you, my Wyse Guy. I know you're waiting for me at the bridge.