Not convinced that you need to spend the extra money on natural dog and cat food?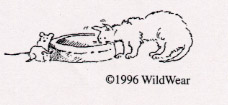 I know what you're thinking, after all, I came from a family who fed their poodle Gainesburgers for all of his sixteen years.
But I've come a long way since then. One day I put a bowl of kibble down in front of one of my dogs and realized that I had no idea what was in there. With just a little research, I found out exactly what I was feeding, and it was pretty horrifying.
The development of the pet food industry came about when the human food industry wound up with moldy grains and diseased animal parts that they couldn't use for human consumption. Instead of letting these byproducts go to waste, they found a way to make them profitable, and "convenience" dog and cat food was created.
Immediately, people were made to feel that they were no longer capable of providing adequate nutrition to their animal companions - though they'd been doing just that since the beginning of time for their animal and their human families!
The moldy grains and diseased animal parts were just the beginning. There are also reports that many foods added other "gourmet ingredients", like euthanized dogs and cats, often still wearing their flea collars and license tags. Stories from the rendering plants where these foods were produced range from disgusting to shocking.
Imagine what this "nutrition" does to you companion animal!
I bet if we'd fed our poodle a healthy diet he'd be laying by my feet at this very moment...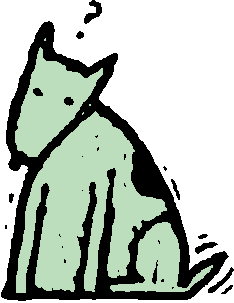 For More Information
What's Really in Pet Food
A listing of foods without artificial preservatives or additives
A Vegetarian Talks About Feeding Meat
10 Secrets Pet Food Companies Don't Want You to Know

Behavior Issues? Allergies?
Skin Problems?
Good Nutrition is the
First Step Toward a Cure
And you don't have to shop at the health food store for natural kibbles any more! Pet stores have recognized the demand for high quality foods, and stocked their shelves with brands like Azmira, Wellness, Innova, and California Natural. Compare the ingredients list on these bags to the less expensive foods, and I doubt if you'll be able to go back to the grocery store brand you're used to feeding.
What these brands offer is less filler products, such as corn and soy. Good as soy is for humans, it is not well suited for dogs and cats. They also offer human quality ingredients; in some of the best foods, it's even organic. They are not sprayed with salt and artificial flavors, which is what attracts your dog or cat to their junk food brands. They don't use chemical preservatives, such as ethoxyquin. (Ethoxyquin, by the way, was developed by Monsanto to be used as a rubber preservative.)
These brands are more expensive, but the extra money you'll be spending will have payoffs. First, you really don't need to feed as much of these nutrient dense brands. Second, less in = less out. Stool will be firmer, smaller, and there will be less of it. Third, these foods will help strengthen your companion's immune system, which means that you'll have fewer vet bills.
Using a home prepared diet or natural kibble, I've seen some of my dogs fight off allergies and skin problems that I'd spent hundreds of dollars curing in the past. Good nutrition can solve so many of the problems seen in dogs today, from behavior issues to infections, and it's the easiest place to start.
Some of the top rated brands:
Azmira
http://www.azmira.com/
Petguard
http://petguard.com
Wysong
www.wysong.net
Flint River Ranch
http://www.flintriversupport.com/store.asp
Solid Gold Hund-N- Flocken
http://www.solidgoldhealth.com
Innova & California Natural
www.naturapet.com
Wellness
http://www.omhpet.com

Turkey, Chicken Meal, Whole Steamed Potatoes, Whole Eggs, Whole Ground Barley, Chicken Fat (preserved with vitamin E), Ground White Rice, Herring, Sunflower Oil, Whole Raw Apples, Whole Steamed Carrots, Milk (lactose free), Fish Oil (source of Omega 3 Fatty Acids), Whole Clove Garlic, Alfalfa Sprouts, D-Methionine, Taurine, Sodium Ascorbate (source of Vitamin C), dl-Alpha Tocepherol (Vitamin E supplement), Probiotics, Potassium Chloride, Calcium Carbonate, Zinc Proteinate, Iron Proteinate, Beta Carotene, Niacin, Calcium Pantothenate, Copper Proteinate, Maganous Proteinate, Manadione Sodium Bisulfine Complex, Thiamine Mononitrate, Pyridoxine Hydrochloride, Riboflavin, Vitamin D3 Supplement, Vitamin B12 Supplement, Folic Acid, Iodine Supplement, Biotin
Yum!
home